Drive Success through Acknowledgment & Recognition: Turning Recognition into Outcomes for an Inspired Workforce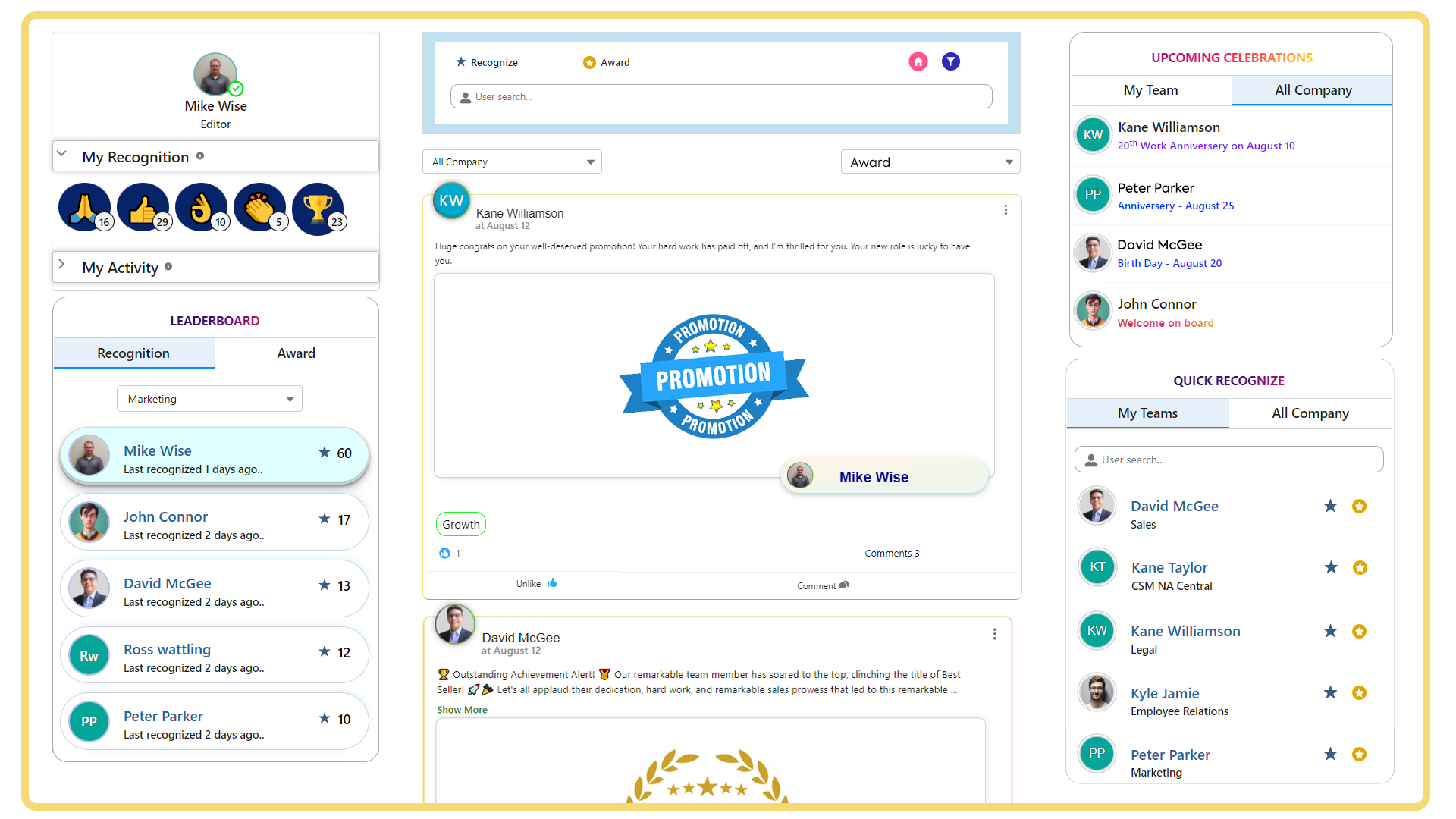 GET STARTED WITH RECOGNITION IN SALESFORCE
Boost

Employee

Morale

&

Engagement

with

Peer-to-Peer

Recognition
Recognition
"Celebrate Excellence with Applauz: Recognizing Outstanding Achievements and Nurturing a Culture of Appreciation!"
Award
"Shining a Spotlight on Success: Applauz Awards - Honoring Brilliance and Milestones with Distinction!"
Event
"Gathering for Greatness: Join Us at Applauz Events - Where Celebration, Connection, and Achievement Converge!"
Elevate your team's performance with

Recognition
Welcome to OKRify, where success means not just meeting goals, but celebrating them. Our platform streamlines recognition sharing. With a click, honor colleagues, fostering a culture of appreciation.
🌟 Effortless Sharing: Easily amplify exceptional work.
👏 Celebrate Achievements: Spotlight milestones and standout performance.
📣 Visible Appreciation: Boost morale with prominent recognitions.
👥 Build Team Unity: Unite to celebrate shared successes.
Unveil Excellence with OKRify

Awards
Introducing OKRify Awards – spotlighting exceptional achievements. Grant awards effortlessly, celebrating dedication and contributions, fostering appreciation that uplifts the team.
🏆 Effortless Recognition: Easily honor excellence.
🌟 Honoring Milestones: Showcase inspiring achievements.
📣 Visible Appreciation: Cultivate a culture of recognition.
👥 Strengthen Bonds: Applaud shared victories together.
Explore the world of OKRify Events, where connections happen and experiences are shared, fostering engagement within your team.
Watch our demo video to see
how to set strategy and goals
align goals
operationalize strategic execution
measure what matters
OKRify - One app for OKRs, Scorecard, Contest and Meeting Management - The complete strategy execution application for Salesforce customers.
It's pretty simple, just like our software. Sign up so you can see OKRify in action.
Call us today
+1-347-765-6416
Contact us today and our friendly support team will reach out as soon as possible.