P

e

r

f

o

r

m

a

n

c

e

S

c

o

r

e

c

a

r

d

b

u

i

l

d

F

o

r

S

a

l

e

s

f

o

r

c

e
Measure what matters across roles for any team, empower your team to prioritise their activity and exceed goals.
Motivate team & Build Accountability
Focus on the behaviours that drive the business outcomes with customizable scorecards and set targets as granular as weekly or flexible for teams or users.
Leaderboard for Sales, Marketing, Service or any teams
Real-time metrics
Leaderboard with multiple real-time KPIs for any team
Weighted Scoring
Customize score that works for you with weights and user specific targets
Easy to manage, setup in minutes
Setup your Scorecard and Leaderboard in minutes right in Salesforce CRM. Fully customizable for any team with data from any Salesforce object
Use any data in Salesforce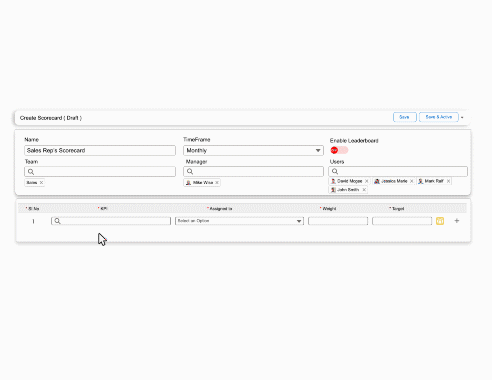 S

c

o

r

e

c

a

r

d

&

L

e

a

d

e

r

b

o

a

r

d

f

o

r

S

a

l

e

s

f

o

r

c

e
Beat your competition with Just-in-Time insights for Sales Reps, Marketing Executives, Customer Support, Customer Success or any team
Flexible Goals
Set weekly, monthly or quarterly targets for the team or for each user separately
Any Salesforce Object
Data from any Salesforce Object can be added to measured and tracked in real time
History & View Records
View performance history and the real transaction records behind the numbers in the scorecard
Automated Scoring
Customize automatic real time scoring with weights that meets your business needs to achieve outcomes.
Leaderboard
Manager Leaderboard with weighted KPIs and also optionally enable Leaderboard for team members
Simple & Native Salesforce
Simple and easy to Setup in Salesforce, no additional software training. 100% native Salesforce build application
OKRify Scorecard is a 100% native Salesforce application, designed and build for Salesforce customers.
Watch our demo video to check how it easy to measure your entire teams performance in Salesforce with OKRify
Create Scorecard
Set targets for each user & period
View Scorecard & Leaderboard
OKRify - One app for OKRs, Scorecard, Contest and Meeting Management - The complete strategy execution application for Salesforce customers.
It's pretty simple, just like our software. Sign up so you can see OKRify in action.
Call us today
+1-347-765-6416
Contact us today and our friendly support team will reach out as soon as possible.