OKRify's August 2023 release: OKRify 3.0 AI is now available in the Salesforce AppExchange. OKRify 3.0 AI brings forth a range of exciting new features such as AI-powered recommendations for writing effective Objectives and Key Results (OKRs), Contest for motivating your teams with gamification and recognition to improve employee engagement and morale.
Below is the detailed information on OKRify 3.0 AI release
Experience the Enhanced OKRIfy, Now Empowered by OpenAI (ChatGPT). Enjoy effortless OKR suggestions by a single click within OKRify, instantly transforming them into actionable OKRs with unmatched simplicity.
The AI-driven OKR suggestions generally offer three tailored recommendations derived from your inputs, enabling you to generate an OKR with utmost ease by selecting 'Create OKR' from any of the provided suggestions.
Discover  300 pre-designed OKR templates in OKRify, providing a wellspring of inspiration and guidance as you sculpt your unique OKRs. With a simple click, these templates seamlessly transform into actionable OKRs.
These templates are thoughtfully categorized according to departments, roles, and industries, ensuring tailored solutions for all.
Key Result Overdue Email Enhancement
The Key Result Overdue email notifications has been improved to include milestones for "Milestone" type key results. The email will now provide a comprehensive information of all milestones associated with the Key Result.
Furthermore in the email notifications, if the confidence feature is deactivated in OKRify Settings, the confidence field will be omitted from this email.
Milestone Key Result - Contributors
When creating key results of type milestones, individuals assigned to milestones will now be automatically included as Key Result contributors. This will allow these users to update the progress Milestones for the Key result. The automatically added KR contributors can be removed if required.
Motivating teams can be greatly enhanced through gamification, especially for groups like Sales Representatives, Business Development Representatives (BDRs), Support teams, and others. OKRify now offers a Contest feature alongside its existing Scorecard and leaderboards functionalities, all designed to gamify teams and foster motivation through friendly competition.
The Contest feature enables the organization of time-bound competitions for individual users or entire teams within Salesforce. These contests can revolve around specific Key Performance Indicators (KPIs) derived from Salesforce data.
Moreover, Contest grants the flexibility to include users from various teams and allows the setting of personalized targets for individuals. This customization ensures that the contest aligns with each user's targets. Much like the Scorecard, the Contest also provides leaderboards, offering comprehensive insights into competitors' performance.
Maintaining employee motivation and engagement is crucial for any organization's success. Recognition serves as a powerful tool to acknowledge employees for their valuable contributions and to celebrate personal milestones like birthdays and work anniversaries.
Recognition offers a straightforward and user-friendly tool to commend one or more individuals for their efforts. It facilitates giving awards for exceptional performance and celebrating personal milestones.
Additionally, Recognition can automatically acknowledge the completion of an OKR and can also generate recognition posts for contests and scorecard achievements.
The funnel chart serves as an excellent visual representation tool, offering a concise narrative of progression or conversion rates across diverse process stages.
OKRify funnel chart empowers you to craft charts using data from multiple Salesforce objects(Multiple KPIs) such as Lead, Opportunities or any custom Objects. This dynamic visualization not only simplifies data comprehension but also expedites the identification of bottlenecks, trends, and optimization prospects, thus fostering more knowledgeable decision-making.
The funnel chart accommodates up to 6 KPIs and additionally allows to set targets for each KPI. Discover the ultimate funnel chart solution for Salesforce and revolutionize the way you visualize and analyze data.
Performance Review: With OKRify's performance review feature, conducting employee performance reviews will become simpler and more streamlined. The feature includes customizable templates for a variety of performance evaluations, such as self-assessments, peer reviews, and manager assessments, which will be tailored to your organization's specific needs.
Installing/Upgrade Instructions
When installing or upgrading OKRify 3.0 AI, please confirm the below confirmation.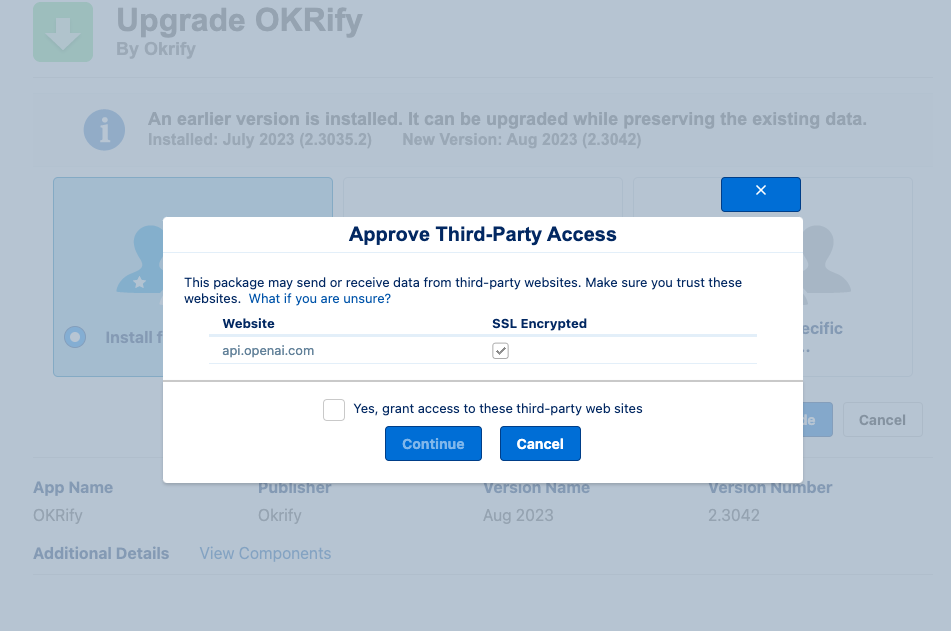 Post-Installing/Upgrade Steps
Kindly follow the following post-installation or upgrade steps for the recognition and contest functionalities.
Recognition
Assign the OKRify_Recognition_User for Recognition user
Assign the OKRify_Recognition_Admin for Administrator
Contest
Add OKRify_Contest_User for contest user
Assign OKRify_Contest_Admin for users who need access to create contest
Add Contest LWC to Lighting Pages (Optional)